Intelligent Battery Software for Advanced Ship Optimization
PlanB battery management software (BMS) optimizes lifespan, vessel fuel efficiency and safety while providing an integrated platform to enable systems that network seamlessly together. The BMS ensures operator/installation safety and system isolation, oversees the state of health of each cell in the system to prevent hidden failures and monitors charge/discharge profile to ensure a longer battery life. Proper failure prediction means it can take the ESS offline as necessary and remote monitoring ensures maintenance can be easily scheduled to ensure no disruption to the ship owner.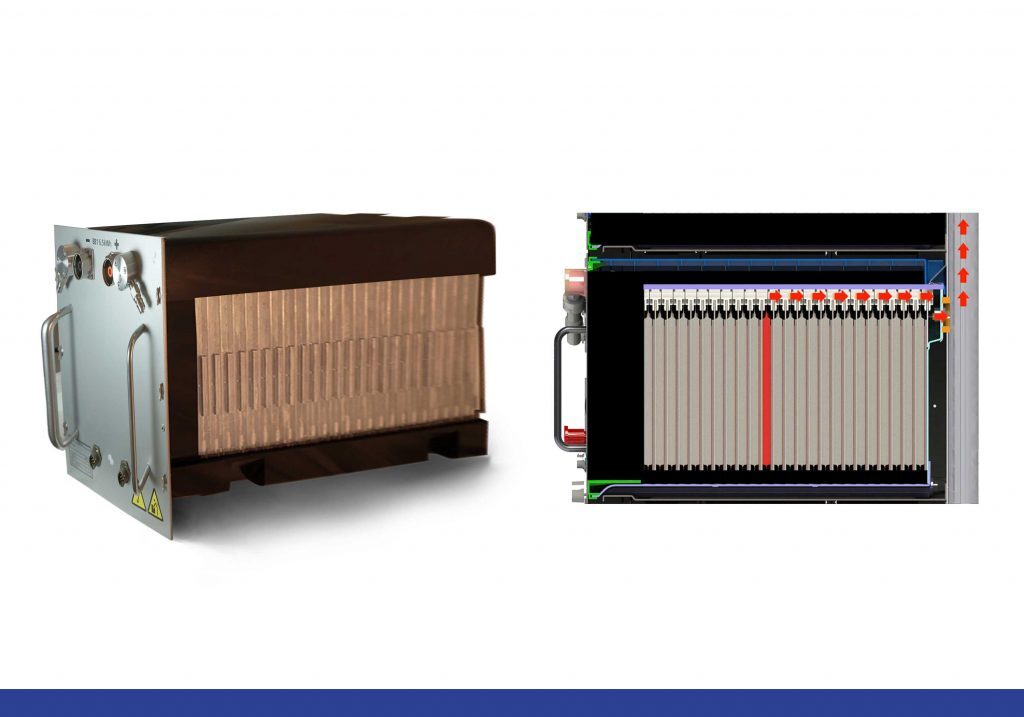 E-Vent
PlanB uses a uni-direction valve connected to the duct in the rack, without the possibility of back blow, safely removing any potential for fire. Typically battery suppliers allow gas to enter the battery room or offer extraction through a plenum, both of which can increase the potential for an explosion.
CellCool Liquid Cooling
Each cell is encased in its own cooling channel. The cell is uniformly cooled, controlling against thermal runaway (fire) and premature cell aging which will shorten the battery system lifespan. In multiple tests, PlanB has demonstrated the ability to completely control temperature and eliminate thermal runaway.
Integrated Racking
The modules are housed in a racking system. They are connected in series to achieve system voltage, and parallel strings are added together to meet the total required system capacity. The system's integrated enclosure meets requirements for battery room standards and may be installed in any location on a vessel.
Cellswap™ – Battery Re-Coring
Sperling PlanB CellSwap™ is a retrofit process to rebuild the inside of a battery onboard a vessel.
PlanB CellSwap™ is simple; the cells in the core of the battery can be replaced when nearing end of life. Other items, such as electronics and racking, are reused. There is no need for costly refit of existing hardware, only the consumable parts such as the cells are replaced.
CanPower – Containerized Energy Storage
An independent containerized battery room within standard sized containers 20-53 feet in length.
SCHEDE TECNICHE SPBES
Clicca sul pulsante sotto per accedere alle schede tecniche dei prodotti.